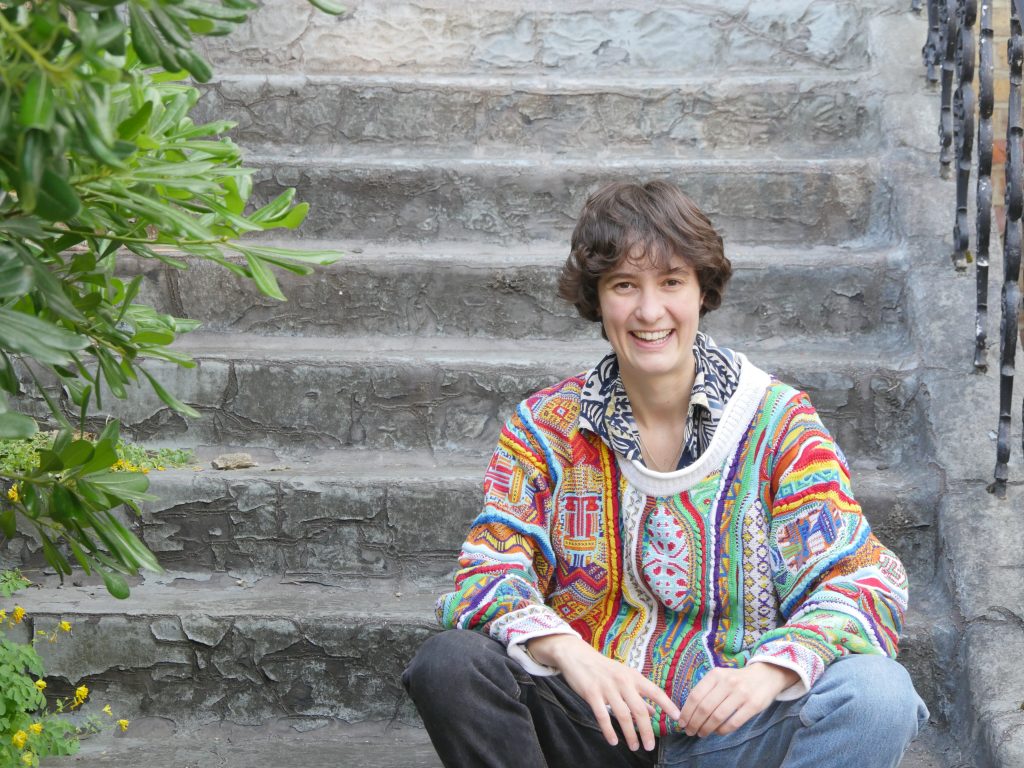 An early Sondheim obsession shaped the way I approach composition, character and storytelling. I like to write eclectic and theatrical music, and over the last few years I've been exploring bold juxtapositions of contrasting musical ideas and grooves to create visceral, gestural sound worlds. I enjoy working closely with artists and often find that much of the inspiration for a piece can come from the individuality of a group or person's playing or voice.
I studied composition at the RNCM with Adam Gorb and Gary Carpenter. While there, I collaborated with Norwegian mezzo soprano Ingvild Schultze-Florey which led to a chamber opera commission from Bergen National Opera in 2015. After writing for saxophonist Erin Royer, I was commissioned by the Borealis Saxophone Quartet, Gillian Blair and the Blair/ Mertens Duo.
Whilst at the RNCM, I worked alongside composer Kate Pearson facilitating mainstream and SEN primary school children to write their own operas and songs with RNCM Engage. Outreach work has been an important part of my practice ever since and I went on to work regularly with Tom Newall and the Piccadilly Symphony Orchestra, delivering projects in Harpurhey. I then wrote a 25 minute piece for Salford Choral Society and Piccadilly Symphony Orchestra, working closely with Tom and the choir. This lead to a commission from Cambridge Philharmonic Orchestra and chorus which will be premiered in March 2023.
In 2016, I took part in Psappha's "Composing For" scheme, writing a piece for percussion and loop pedal, and was then invited to write the inaugural Sir Peter Maxwell Davies Commission. I then wrote a piece for the Italian ensemble FontanaMIX and this piece was premiered in Bologna and later performed in Hannover.
In 2017, I studied with Julian Philips on the Opera Makers course at Guildhall School of Music and Drama, writing an opera in association with the Royal Opera House, before becoming a Fellow at Guildhall the following year.
I won a place on the Royal Philharmonic Society's composers programme where I wrote a horn and piano piece for Wigmore Hall as the Rosie Johnson RPS Wigmore Hall Apprentice Composer in 2022.
I was one of five composers who collaboratively scored Gods of the Game, an opera about football and corruption commissioned by Sky Arts. Gods of the Game was produced by Grange Park Opera and Factory Films, and broadcast live on Sky Arts in 2022.
In 2023 I wrote a piece for London Sinfonietta's "Sound Out" project and a saxophone concerto for Gillian Blair which was premiered with The Arch Sinfonia, under conductor Chloé van Soeterstède.
I'm excited to be resident at Glyndebourne for the next three years. I'm currently working with BCMG, artist Haroon Mirza and soprano Juliet Frasier on a new piece for 28th Jan 2024. I'm working with London Sinfonietta on a collaborative piece with pupils from St Ignatious College as part of their In Town residency.